Blog > Earth day 2010 + Tuvalu = Postcards!
On April 22nd it will be Earth Day 2010 and, in a time when climate change is becoming more serious than ever, it's important to not let this day go by unnoticed.
Postcrossing is collaborating with students in Tuvalu in a very special event around the Earth Day 2010 in which you can participate too – and it's really easy, read on.
But first, for the ones who may don't know where the country Tuvalu is, here's a short summary from its Wikipedia page:
Formerly known as the Ellice Islands, is a Polynesian island nation located in the Pacific Ocean, midway between Hawaii and Australia. Its nearest neighbours are Kiribati, Nauru, Samoa and Fiji. It comprises four reef islands and five true atolls. Its population of 12,373 makes it the third-least-populated sovereign state in the world.
From all the important facts about Tuvalu, there's something particularly important that you should: due to global warming and the rising of sea-level, there are predictions that in the next 50 years the entire population will have to be evacuated. The ocean can swallow Tuvalu whole, making it the first country to be wiped off the map by climate change! Isn't that scary?
Tuvalu students certainly think it is, and so do we. Postcrossing is proudly collaborating with them in this year Earth Day to help spread their word about how important it is to reflect and act upon climate change. The project is called "Send Tuvalu to the world" and consists on sending 422 postcards to all over the world sharing their thoughts about Tuvalu. The students organized a painting contest to draw a special stamp to be used in all the postcards, so these are very special indeed.
How would like to receive one of these postcards from the remote islands of Tuvalu? We know many of you would, so here's how:
Just leave a comment on this Postcrossing blog post saying you would like one. We will then select the receivers from the first users of each country until we reach the needed 422 addresses. There are many possible slots for each country, so be sure to leave a comment! We will then share your address with the organization of this event in Tuvalu and the students will send your way one of this very special postcards.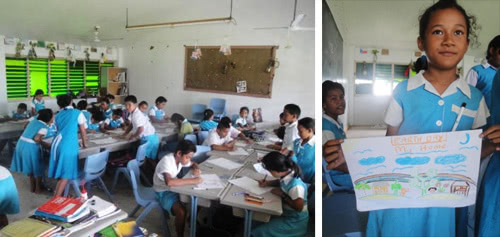 It's really simple to participate. But also very important, is to be aware – more than ever – about climate change, what it is doing to our planet, and what we should do about it.
Posted by paulo

on
Tags: children, collaboration, school, tuvalu