What is Postcrossing?
It's a project that allows you to send postcards and receive postcards back from random people around the world. That's real postcards, not electronic! Learn more.
How does it work?
Request an address and a Postcard ID
Mail a postcard to that address
Receive a postcard from another postcrosser!
Register the Postcard ID you have received
Go to number 1 to receive more postcards!
Our happy members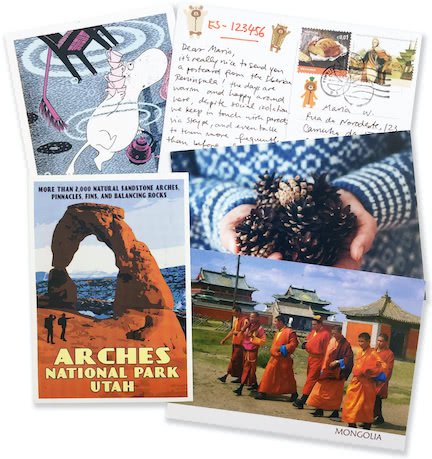 "Postcrossing has been in my life from the teenage age until now in my mid-20s. It's always been a safe space for me where I could relax and have interesting conversations with so many nice people around the world. There are so many warm-hearted people here who go the extra mile to put a smile on a stranger's face. I couldn't think of a better hobby. ♥"
Jennifer, Germany
More love
What is happening now?
Postcrossing in numbers
804,812 members

209 countries

74,524,302 postcards received

474 received in the last hour

396,310 postcards traveling

234,432,213,321 miles traveled

9,414,400 laps around the world
Recent Postcards