What is Postcrossing?
It's a project that allows you to send postcards and receive postcards back from random people around the world. That's real postcards, not electronic! Learn more.
How does it work?
Request an address and a Postcard ID
Mail a postcard to that address
Receive a postcard from another postcrosser!
Register the Postcard ID you have received
Go to number 1 to receive more postcards!
Our happy members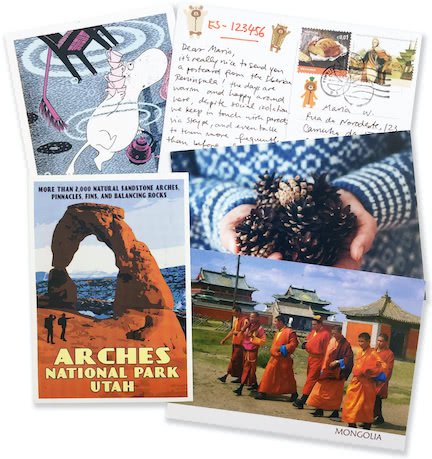 "In my own country I sometimes find that people are complacent, assuming that there isn't much to learn from other countries and cultures. I love that Postcrossing keeps me globally aware. It keeps me understanding that rich lives are being lived even if they are not like mine or like those in my country. It helps me learn something new with every postcard received. It helps me to be a full person instead of one who is narrow-minded."
Rita, U.S.A.
More love
What is happening now?
Postcrossing in numbers
791,872 members

206 countries

57,358,674 postcards received

645 received in the last hour

318,715 postcards traveling

180,146,021,154 miles traveled

7,234,359 laps around the world
Recent Postcards