What is Postcrossing?
It's a project that allows you to send postcards and receive postcards back from random people around the world. That's real postcards, not electronic! Learn more.
How does it work?
Request an address and a Postcard ID
Mail a postcard to that address
Receive a postcard from another postcrosser!
Register the Postcard ID you have received
Go to number 1 to receive more postcards!
Our happy members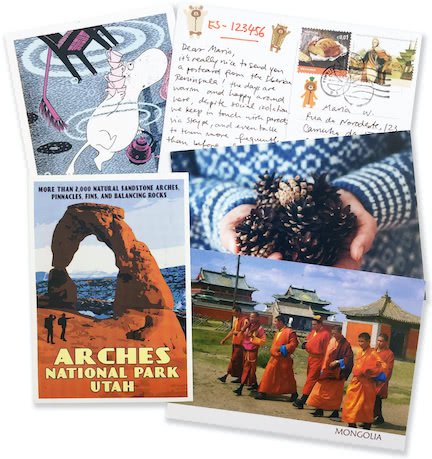 "I really love to send and receive postcards. I still remember the thrill of that first card in my mail box so clearly but have come to realize that sending them is just as much fun. As a hobby, it does not require much space like some. It costs very little also, which is great! Totally addicted!!"
Canadian Postal Worker
More love
What is happening now?
Postcrossing in numbers
802,859 members

209 countries

61,666,860 postcards received

969 received in the last hour

383,424 postcards traveling

193,207,486,323 miles traveled

7,758,885 laps around the world
Recent Postcards