What is Postcrossing?
It's a project that allows you to send postcards and receive postcards back from random people around the world. That's real postcards, not electronic! Learn more.
How does it work?
Request an address and a Postcard ID
Mail a postcard to that address
Receive a postcard from another postcrosser!
Register the Postcard ID you have received
Go to number 1 to receive more postcards!
Our happy members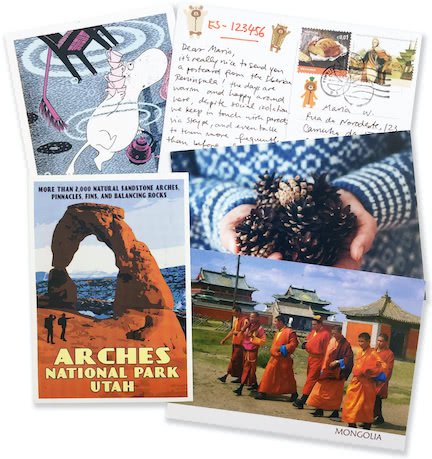 "Postcrossing is like an oasis for me. When I felt so exhausted about my day, receiving a postcard will make me happy again! My favourite part are reading the email from receiver and registering the postcard that I received.
I hope all of you as happy as I am!
Happy Postcrossing <3"
Maudya, Indonesia
More love
What is happening now?
Postcrossing in numbers
802,843 members

208 countries

68,713,578 postcards received

301 received in the last hour

413,477 postcards traveling

215,200,381,284 miles traveled

8,642,082 laps around the world
Recent Postcards