What is Postcrossing?
It's a project that allows you to send postcards and receive postcards back from random people around the world. That's real postcards, not electronic! Learn more.
How does it work?
Request an address and a Postcard ID
Mail a postcard to that address
Receive a postcard from another postcrosser!
Register the Postcard ID you have received
Go to number 1 to receive more postcards!
Our happy members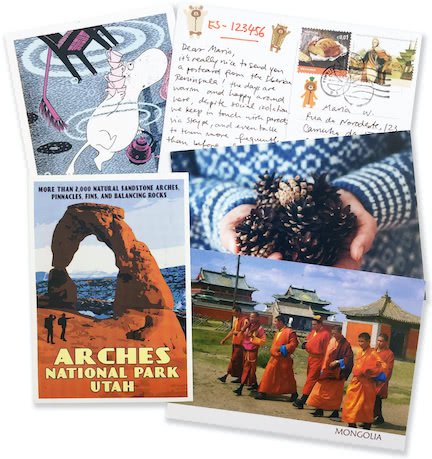 "It's nice to think someone, somewhere may have a smile on their face because a little piece of my life has reached them today. I know I have when I find a postcard on my doorstep. Thank you to everyone who partakes."
Samuel, Finland
More love
What is happening now?
Postcrossing in numbers
803,368 members

208 countries

71,190,194 postcards received

840 received in the last hour

382,680 postcards traveling

223,035,119,509 miles traveled

8,956,712 laps around the world
Recent Postcards