What is Postcrossing?
It's a project that allows you to send postcards and receive postcards back from random people around the world. That's real postcards, not electronic! Learn more.
How does it work?
Request an address and a Postcard ID
Mail a postcard to that address
Receive a postcard from another postcrosser!
Register the Postcard ID you have received
Go to number 1 to receive more postcards!
Our happy members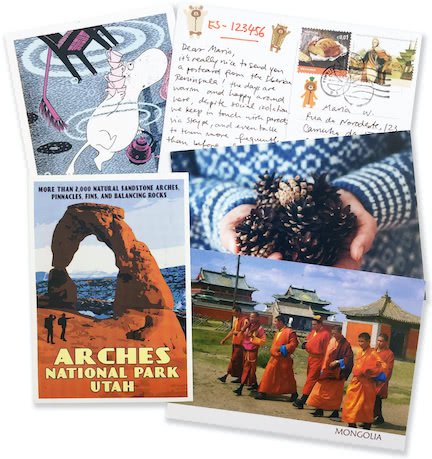 "Having been a Post Office clerk for 28 years, this project, and it's runaway success, surprises even me.
I wonder if the founder envisaged the sending of almost half a million cards a month.
One thing that I do know, however, is that almost everyone loves to receive personal mail, and this is mentioned by my customers almost daily.
Postcrossing, for those of us lucky enough to have found it, allows us to receive the personal touch in an increasingly digitised world."
Simon, post office clerk,UK
More love
What is happening now?
Postcrossing in numbers
805,368 members

209 countries

63,974,312 postcards received

593 received in the last hour

408,322 postcards traveling

200,432,281,395 miles traveled

8,049,020 laps around the world
Recent Postcards