What is Postcrossing?
It's a project that allows you to send postcards and receive postcards back from random people around the world. That's real postcards, not electronic! Learn more.
How does it work?
Request an address and a Postcard ID
Mail a postcard to that address
Receive a postcard from another postcrosser!
Register the Postcard ID you have received
Go to number 1 to receive more postcards!
Our happy members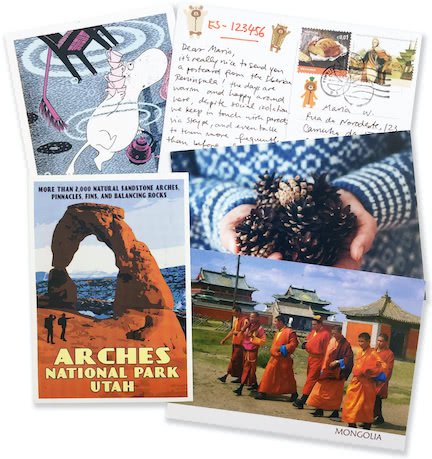 "Postcrossing should have come with a warning label, because I was addicted within a fortnight. It's a fantastic experience and it's impossible to say whether sending or receiving cards is most fun. In merely two months I've received cards all the way from Japan, and sent all the way to Malaysia!"
Axel Nydén, Sweden
More love
What is happening now?
Postcrossing in numbers
806,619 members

208 countries

65,269,598 postcards received

335 received in the last hour

417,576 postcards traveling

204,263,973,926 miles traveled

8,202,895 laps around the world
Recent Postcards