What is Postcrossing?
It's a project that allows you to send postcards and receive postcards back from random people around the world. That's real postcards, not electronic! Learn more.
How does it work?
Request an address and a Postcard ID
Mail a postcard to that address
Receive a postcard from another postcrosser!
Register the Postcard ID you have received
Go to number 1 to receive more postcards!
Our happy members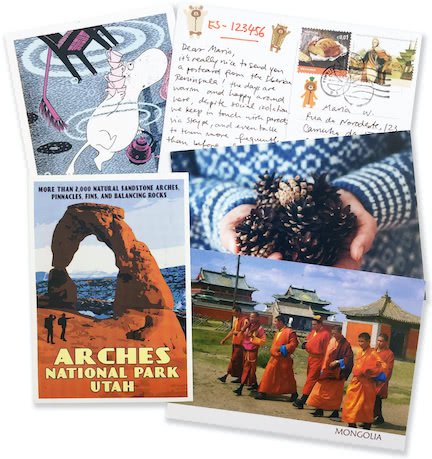 "I love Postcrossing because it connects people from all over the world. It can also be really informative and even educative as you get to know people from different countries. I think Poscrossing helps to make our planet a much better, nicer place. I always feel so happy whenever I receive a postcard or when I send it myself. It's so important to share love and not hate. That's why I've joined Postcrossing. And now I can't imagine my life without it."
Anastasia Maxine, Russia
More love
What is happening now?
Postcrossing in numbers
802,665 members

206 countries

67,382,978 postcards received

282 received in the last hour

337,515 postcards traveling

210,854,879,872 miles traveled

8,467,574 laps around the world
Recent Postcards