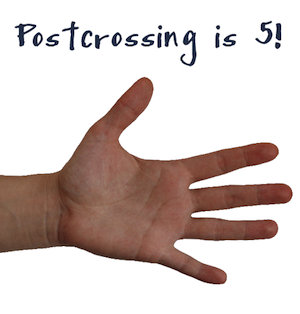 On 14th July 2005, the Postcrossing project started its first steps in spreading smiles through postcards. It was a small project done for the love of sending and receiving postcards from all over the world, and the hope was that there would be more people sharing the same love and interest for snail mail.
Fast forward 5 years and this same project is now responsible for over 4.5 million postcards connecting about 200 countries. It binds together people from different cultures of all ages and genders, with different political and even religious beliefs. Few other hobbies can claim to have achieved the same results, and we are quite proud of this!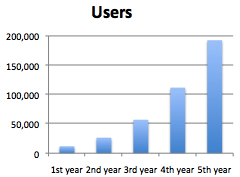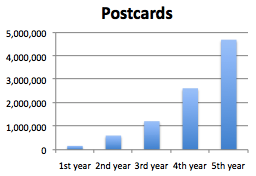 Throughout these years, Postcrossing has gone through several milestones, thanks to the work of a team of volunteers as well as the precious support of its members who helped it reach what it is now.
Postcrossing is sending out a bold message to the world today: postcards are not something from the past. In fact, we feel like we are starting a postcard revolution and proving that no technology will ever replace the intimacy of a handwritten postcard. :)
Thank you everyone who made this possible. Let's make the next 5 years even greater!
Please join me wishing,
Happy Birthday Postcrossing!
…aaaaaaand because a birthday is not complete without presents, we have a big contest to announce! :)
We would like you to take a picture of yourself posting some postcards at your local postbox. Why not go do that now, we'll wait here for a bit… Done? Now mail the photo to this email address, and don't forget to add your username, so we can know who you are! That was easy, right? We're hoping to make a big slideshow of smiling postcrossers around the world!
By July 31st we'll randomly choose 5 people, who will each receive a pack of 60 postcards from MOO. :)
Many of you already know MOO, but if you don't you should really check them out – they help you to make batches of professional glossy postcards, with a set of your own pictures or using some of their cool ready-made designs. If you're a postcrosser who has never tried MOO before, you'll be happy to know that they are offering all new customers 10% off 20 or 60 packs of postcards with the voucher code POSTBIRTHDAY5! (valid for one order only until the end of July, excludes delivery).