Woohoo!! We've just reached the amazing milestone of 30 million registered postcards, and couldn't be prouder of every single one of you! Isn't 30 million a lovely round number? :)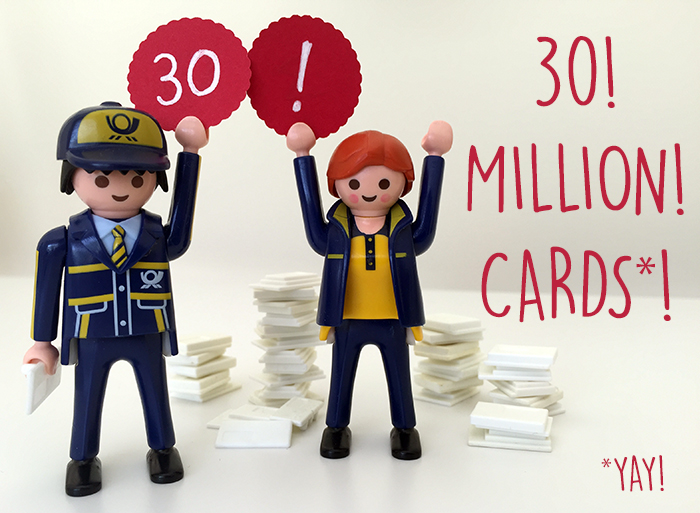 And now ladies and gentlemen, the moment you've all been waiting for: postcard number 30,000,000 (DE-4221494) was sent by Postkartensammler in Germany on May 14th and registered today at 00:27 (UTC) by blooaum in Portugal. Hurray!
All spots on our guessing game were taken quite some time in advance, and the big winner was Licena, who picked the exact minute that postcard was registered. Congratulations, your new set of Urban Sketching postcards and the code for your shiny MOO postcards are on their way!
The other four lucky postcrossers who came the closest to the right time were olgaga98, Lara_and_Xavier, ThomW and vsemsnyatsasny – well done! You'll all receive a pack of 20 postcards from MOO!
Both the sender and the receiver will also receive a surprise pack of Everything is Connected, Keri Smith's wonderful book of adventure postcards.
And last but not least, our big heartfelt thank you to our team of volunteers, to MOO for generously sponsoring this giveaway, and most of all to you – all of you who send postcards and take this project further with your enthusiasm!
Onwards to the next million — one postcard, and one smile at a time! :)