Yay! The eagerly anticipated postcard number 15 million has been registered, and another significant milestone has been reached! Did you notice how quickly this one came? Just earlier this year we were celebrating 10 million postcards, and then… it seems like we just blinked for a second and bam! 15 million! :)
If an image is worth a thousand words, allow us to illustrate the project's unbelievable growth since its start: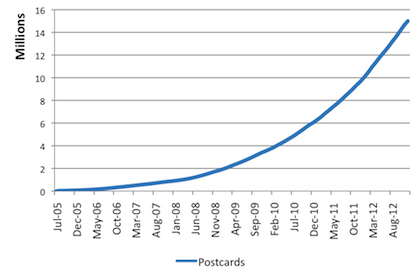 I guess we all really like postcards, eh? :D
Well, enough of that – we know you're all curious to find out which postcard got the honour, so here it is: postcard DE-1800737, sent by member schwarzer-mann in Germany, and registered at 13:46 (UTC) by limoda in Italy. This is a treat in itself, but just to make it sweeter, both the sender and the receiver will receive a surprise gift from MOO: a pack of 20 postcards and a stickerbook for each of them!
Member kefjo was the big winner of our 15 million contest, since she correctly guessed the exact time that postcard was registered – congratulations! You've won a pack of 80 postcards and 2 sticker books from MOO!
Another six lucky postcrossers had the next best guesses! tsaga and Sakura_Students, you'll get a pack of postcards from Natuurlijkefoto.nl, partalciemre and mandy1804, yours will come from MinorPostcards.fi, and finally grie and erikdeg – your pack is from PostcardWorld.eu's collection. Congrats!
On top of that, as a special treat to all postcrossers for reaching this milestone (and for a limited time), MOO is offering free shipping to all their new customers – enjoy it while it lasts! :)
Once again, thank you all for each and every postcard that you send, and for your continuing support to this project. A big thank you also to our team of volunteers, who help us run the project everyday – and last but not least, to all our lovely sponsors: MOO, PostcardWorld.eu, MinorPostcards.fi and Natuurlijkefoto.nl
Since the new year is about to start, we'd like to grab this opportunity to wish you all a very Happy New Year… with lots of postcards!