Have a look at the following postcards from the sixties: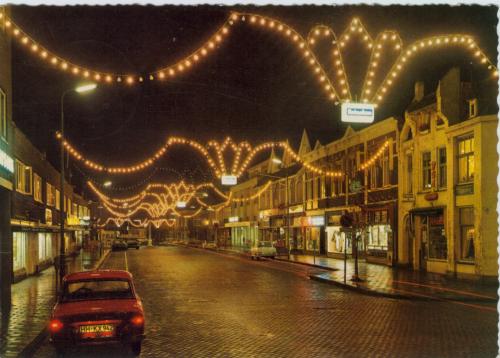 Notice something… unusual? In some postcards it is quite obvious, in others not so much… but the red car is always there!
Andreas Möller loves the Ford Taunus. Throughout the years, he has collected lots of memorabilia related to the car of his dreams, enough to fill a room with brochures, operating manuals and even postcards! One day, he noticed something strange… in many of the postcards he had, the car was the same, a red Ford Taunus 12m with Hamburg license plate HH-KX 942!
The more he looked, the more glaring it became… there it was, in front of the church in the Dutch town of Zutphen, or stopped at the French-Belgian border crossing in Menen as well as in several other towns of the Netherlands, Belgium and Denmark. Sometimes it was featured prominently, others it was discretely parked in the background… How was that possible?!
Mr. Möller doesn't know for sure, but he speculates that the car most likely belongs to the photographer. In one of the postcards, the trunk of the car is slightly open – indicating that perhaps the just got his equipment out of it before taking the photo.
Contacted by Mr. Möller, Hamburg town hall revealed that unfortunately the records about this car had already been destroyed, so there might be no way to find out more about the mysterious fan of the Taunus … but what a great story it is!
You can see the rest of the postcards on this gallery on the Spiegel website, where the story was first published (in German). And a big thank-you to Mr. Möller, who let us borrow his card photos and tell his story. If you have any information that might help him solve this automobile mystery, leave a comment below! :)