Blog > The "Basel Dove" letterboxes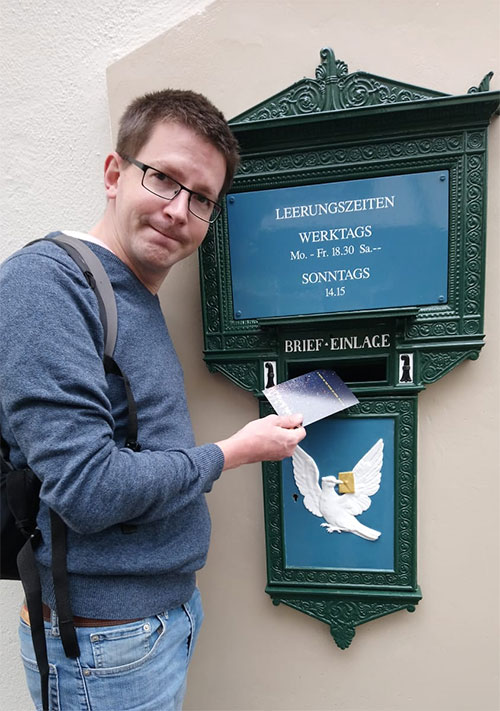 During the summer, British Postcrossing members and old university friends Richard (aka roestimann) and Adam (aka mluc32) met in the city of Basel with a mission: to find all of the six "Basler Dybli" maiboxes!
Why are these mailboxes special, you ask? Well, for one, they're beautiful! They were designed by Swiss architect Melchior Berri between 1843 and 1844, when Basel re-organised how mail was transported in the city. Upon completion and installation, they were considered the district mailboxes and served as direct connections to the postal network.
Local postmaster Johannes Bernoulli liked them so much that he requested 10 more to be made — and a stamp as well to commemorate the occasion! The stamp issued in Basel (this was before Switzerland had a unified post office for the whole country and cantons could issue their own postage) was called "Basler Dybli" (or the Basel Dove). The 2½-Rappen (cents) stamp was launched on July 1st, 1845 and featured an embossed white dove on a field of red, carrying a letter in its beak.
Although the stamp wasn't very popular at the time, years later it became a prized symbol of Swiss philately for its classical beauty, but also for being the first stamp ever on several different categories… Can you guess which ones before having a peek? 🕊
Amazingly, almost 175 years later, these beautiful mailboxes featuring the same dove motive are still in use! Richard and Adam located all six of them, mailed some postcards from them and took some photographs to document their outing in Basel.
If you're ever in Basel and are curious to follow their footsteps to discover these special mailboxes, you can find them at: Spalentor, St. Alban Vorstadt, Münsterplatz, Schneidergasse, Lindenberg (Kleinbasel) and at the old chambers in Riehen, which is a little outside the city.
What a brilliant postal adventure! Thank you Richard and Adam for taking us along on your trip around Basel to learn some interesting facts about the postal history of Switzerland!
Posted by meiadeleite

on
Tags: philately, postal-history, switzerland