About Postcrossing
Learn all about Postcrossing.
How it all started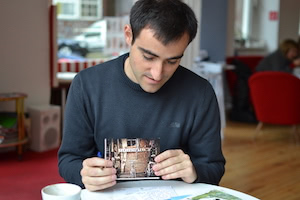 The Postcrossing project was created in 2005 by Paulo Magalhães as a side project when he was a student in Portugal. Paulo loves to receive mail and postcards in particular; from friends, family — or from anyone in the world. Finding a postcard in the mailbox always makes his day!
He knew more people shared the same interest, but there was no good way yet to connect everyone. And that's how he got the initial idea of creating the online platform for this which he called Postcrossing. Its goal: to connect people across the world through postcards, independently of their country, age, gender, race or beliefs.
After playing with the idea for a while, Paulo decided to create the website on his free time. Friends helped test the first version, Ana Campos designed the first logo and after much indecision about the name, on July 14th, 2005 the Postcrossing Project was open to everyone.

In a matter of days many new members joined from countries all over the world, overcoming Paulo's best expectations for the project. At this time, Postcrossing was still hosted in an old home computer tucked away in a storage room in Paulo's home. But soon it became clear that what started as a pet project was quickly turning into a very popular idea.
Since then, Postcrossing has been in the media spotlight around the world, from the widely known BBC News to newspapers, magazines and blogs in languages and scripts that Paulo can't even recognize.
Postcrossing brings many people together, making the world a smaller and happier place — one postcard at a time. There are countless reports of new friendships made, new languages learned and numerous cultural facts about other countries that people learned through their exchanges in the project.
What followed
Right from its early years, a large worldwide community started to form around the project. Postcrossers started to organize Postcrossing meetups all over the world where they got together with other postcrossers to share, write, sign and send their postcards.

Postcrossing continued to grow steadily and in February 2008, the project received a big facelift which introduced a brand new look, new functionalities and room for more improvements.

On the 11th of April 2008, Postcrossing reached its first million of exchanged postcards, surpassing all the best initial expectations. These are some of the following milestones:

The project has contributed to or participated in causes such as the Sichuan Earthquake (raising donations), LupusCrossing, museum exhibitions, school projects and much more!

In 2010 the Little Mail Carriers were sent to travel the world and report back on what they found.

On April 2010, Postcrossing partnered with a school in Tuvalu connecting them with the world through postcards. The students drew their own stamps and postcards which were sent to all corners of the world. Likewise, shortly after, they were showered with greetings from far away places.

For Postcrossing's 5th birthday, postcrossers were invited to celebrate it by sending in photos of them posting their postcards. The response was both touching and overwhelming.

In 2011, the Dutch postal services (PostNL) created the first Postcrossing themed stamp. On 17th of November, the new stamp was launched at Postex 2011 where the first stamp sheetlet was handed to Paulo. Many other stamps followed.

Starting in 2013, Postcrossing partnered with Deutsche Post in a Postcards for a good cause campaign. For each Postcrossing postcard sent from Germany in December, a donation is made to a non-profit organization. Every year, postcrossers rally to send postcards which generate thousands of euros, contributing towards increasing literacy - especially among children and adolescents.

In 2014 Ana presented Postcrossing in a TEDx event in Porto. The best way to understand how great it is to get a postcard from a stranger is... to get one! So, Postcrossing made a call to postcrossers from all over the world to send postcards to surprise the participants of the talk — and surprised they were!

In 2019, Postcrossing organized the celebration of the 150th anniversary of the sending of the very first postcard, on October 1st, 1869.

A postcard contest received thousands of submissions from all over the world sharing their enthusiasm for postcards, filled with kind and thoughtful messages. A selection of some of the best postcards was showcased during October in an exhibition prepared and set up by Postcrossing at the Universal Postal Union headquarters in Bern, Switzerland.

Many postal operators, museums, libraries and even schools joined the celebrations with postcard related events and initiatives. Some of the events were:

58 meetups
11 postcard exhibitions
8 special cancellation marks
8 workshops
6 seminars
4 commemorative postcards issued by post offices
3 guided tours
2 postage stamps

In 2020, after a successful celebration of the 150th anniversary of the postcard, Postcrossing, with the help of Finepaper, decided to launch the World Postcard Day on every October 1st — a day to celebrate the postcard and the connections it brings.

A postcard design contest was organized among design&art students to create an official postcard for the event that was made available for everyone to use on this date.

In the midst of a very unusual year, the special day was nonetheless comemorated all over the world, with the issue of comemorative postcards, dedicated cancellation marks, events in schools, philately fairs, libraries, museums, discounts at post offices and, above all, many many postcards.

Postcrossing members continue to organize meetings across the world, sometimes traveling across the planet to join other postcrossers on meetups. And they keep getting creative — there's even meeetups in unexpected places like desert islands, trains and boats! There are even simultaneous meetups that connect across the internet to say hello to others.
And today
Today, the Postcrossing Project is directed by Paulo and Ana who work on it everyday with the precious support of a small team who help run the project's website and its forum. The members also play an important role with keeping the website running by helping support the project and giving feedback and suggestions about where to go next.
For the future, the Postcrossing goals are simple: to connect the world through postcards and to bring smiles to as many different people and countries as possible. Happy Postcrossing!