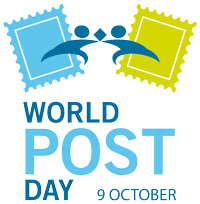 Hurray! October 9th is World Post Day!
This is the day to celebrate traditional mail, and the important role it plays in connecting the world… not to mention making sure our postcards reach their intended destinations, in all corners of the planet! So we invite you to celebrate the day, pat your mail carrier on the back and send a few extra postcards on this very special day. :)
With your help, we've contacted many postal operators and museums worldwide to find out how they were commemorating World Post Day. Sadly, most seem to have forgotten their own day… but a few replied, so here is the list of the events taking place this year:
If you find any more, leave us a comment below and we'll add them to the list.>
Today is also the day in which the new Ukrainian Postcrossing stamp makes its debut! If you're in Lviv and Kiev, don't forget there will be launching events in your city, which you can attend. Elsewhere in Ukraine, you should be able to spot the new stamp on your local post office. If you do, please share a photo with us — we'd love to see how it looks on a postcard!
Happy World Post Day everyone! 📯