Salut everyone!
Today we'd like to tell you about a group of enthusiastic postcrossers from Romania and Moldova who have recently come together in Chișinău to celebrate their hobby. Being from neighbouring countries with many traditions and a language in common (not to mention a hobby!), it just made sense for them to cross the border and meet… and also to try to make Postcrossing more popular in Moldova.
In order to do this, they organised a collaborative exhibition and a meetup, which took place in Moldova's main post office on July 29th. It was a huge success! Here are some pictures from this event: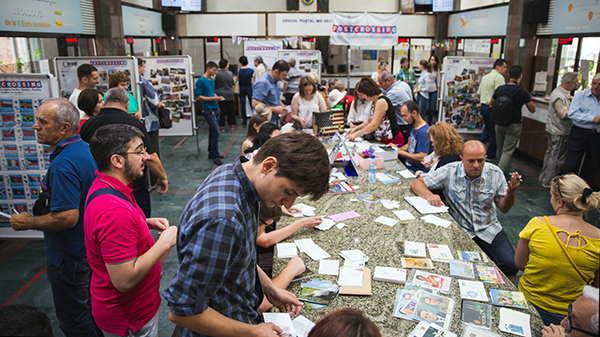 The stands around the post office were filled with postcards either sent to the exhibition by other postcrossers, or from the collections of the postcrossers in attendance, who took the opportunity to showcase some of their favourite postcards and tell interesting postal stories. For instance, did you know that a lot of postcards to Moldova are sent to Maldives by mistake?
It was a busy day in the post office, as it was the last day of the month and many people were around to pay their bills. Many of them saw the exhibition while waiting, curiously checking out what this big group of people were doing around the table. The postcrossers were a busy bunch: together, they sent over 600 postcards to all around the world, bearing a special cancellation mark that Moldova Post did specifically for the occasion. Even the national news station came to check out what all the commotion was about!
Bravo, everyone! A big thank you to Olga (aka Elyna333) and Mihnea (aka MihneaR) for organising the meeting, to Moldova Post for letting them use the space, to the UFRM (The Philatelic Union of Moldova) for letting them use their stands, and last but not least, to everyone who participated and helped put together such an inspiring event!