World Post Day 2016
October 9th is World Post Day!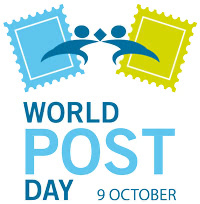 This event is celebrated every year since 1969, on the anniversary of the founding of the UPU (Universal Postal Union), and commemorates all the hard work and social contributions of the postal services worldwide.
So across the world, post offices celebrate this special day in many different ways. This includes special philatelic exhibitions, free entrance in postal and communications museums, introducing new products and services, special cancellation marks, seminars, workshops and more!
If you know of any events for WPD 2016 that are not yet listed below, please let us know so that we can mention it on this page.
These are the events we are aware of in 2016:
The Belize Tourism board is asking for postcards. If you are from the US, you may win a a free trip to Belize in return!

The Finnish Post is celebrating its national Stamp Day on October 7th in a number of post offices throughout the country, with special stamps and cancellation marks.

Deutsche Post will have a special cancellation mark available in Bonn, on October 7th.

For a week, outgoing mail will feature a commemorative World Post Day-themed cancellation mark.

October 7th is Love Post Day for HongKong Post! Anyone can send one letter to a loved one for free, using special collection boxes at post offices.

In celebration of World Post Day, the Filateli Festival is being held in Jakarta Philatelic Office (Central Post Area, door 2), on October 8-9th.

Poste Italienne has World Post Day-themed cancellation marks, which are available on certain post offices.

Japan Post is celebrating International Letter-Writing week by releasing a new set of stamps.

Latvia Post is holding their 10th Postcrossing meeting on Friday, October 7th.

Malaysia Post will publish new themed stamps, featuring mail carriers from their country.

On October 10th, the Portuguese Foundation for Communications will hold an event at the Museum of Communications to celebrate World Post day which will include activities for children.

Pošte Srpske will hold a postal parade at midday in the streets of Bijeljina (from the post office to the main square). Events for children are also planned in several other post offices.

Between 5 and 11th October, Thailand Post is planning an exhibition on the Central Plaza Westgate shopping mall, along with the launch of a new stamp and postmark to celebrate the day.

The Postal Museum is running a mail-themed competition to celebrate World Post Day!