Blog > Tin can mail
On the remote country of Tonga in the South Pacific, there's a very special island. It's name is Niuafo'ou, but it's most commonly known as Tin Can Island for the way mail was delivered and sent for many years.
The concept of Tin Can Mail started in 1882 in this island when William Travers, a plantation manager, found himself without a way to receive mail from the rest of the world. The island had no harbour and was very steep so ships wouldn't go there. So he came up with the idea that mail could be delivered inside of the ships biscuit tin cans that would be thrown overboard when they were passing by! He proposed this to the Tongan postal authorities and soon mail started to be delivered this way. But, don't think this was an easy feat! With strong sea currents and distances of over a mile, this meant that to retrieve mail they could have to swim up to 6 hours!
Eventually the Tin Can Mail became extremely popular and also a tradition and soon ships started to come with passengers just to watch this incredible way of mail delivery. In 1928, Walter George Quensell produced rubber stamps saying "TIN CAN MAIL" that started being applied to all outgoing letters – over one million and a half, Quensell claimed.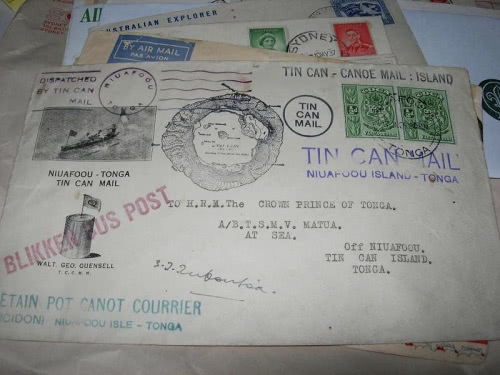 This method of mail delivered continued for over 100 years and it only ended in 1983 when a small airport was built in the island. Nonetheless, the Tin Can Mail history will live forever with special Niuafo'ou stamps – created by the Tonga postal services -, and on the hands of many collectors who are lucky enough to have a letter with the "TIN CAN MAIL" stamp.
Oh, and if you want to learn more about Tin Can Mail, be sure to check this page where you can find a lot more details about it.
Posted by paulo
on
Tags: postal-history, tonga