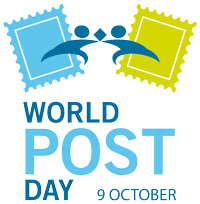 October 9th is World Post Day! 📮
The anniversary of the Universal Postal Union is the day to celebrate the huge infrastructure that connects the world in tangible ways, allowing things to move from our hands to the waiting hands of another person, often across the world. Where would we be without all these efficient systems in place to make sure our postcards, letters and parcels made it to their recipients?
So we invite you to honor the day that brings us all together! To help you celebrate with postal services worldwide, we've asked you to let us know what your own local post office was doing so that we could compile our habitual list of events. Here's what we were able to find out together:
Even if your postal operator is not doing anything special this day, we encourage everyone to join in and commemorate any way they can. Send a few postcards with extra-nice stamps, high-five your mail carrier, or say a kind word to the person behind the counter at your post office — anything goes!
Hurray for the Post!