Blog > Sandy, the Armchair Traveller
Ever found yourself looking at a postcard and thinking how life must be in that place? Or ever got curious about a country or a city and went online to find more about it? We know we do. Postcards allows us to travel to different places even without leaving our home.
Sandy (Shaneez) lives in South Africa and she decided to take traveling through postcards to a new level: go around the world in 80 days, through her postcards. The result of it is interesting blog very appropriately called Sandy, the Armchair Traveller.
In it, Sandy takes us through an imaginary trip around the world visiting the places where she has postcards from! All the stops include tons of details about them: photos, videos, links, curiosities, even local cuisine. But most importantly, plenty of imagination. And there's even a map of the trip!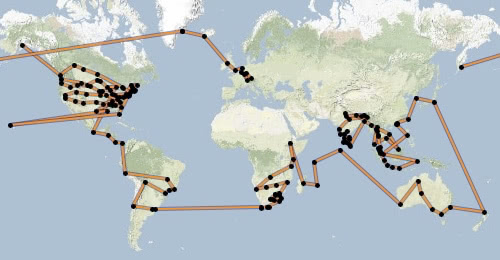 If you enjoy traveling through postcards, then make sure to stop by at Sandy, the Armchair Traveller.
Bon voyage!
Posted by paulo

on
Tags: mail-project, postcard-project, south-africa