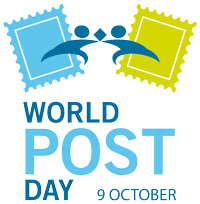 Hurray! In 2 days, it'll be World Post Day!
October 9th is the day to celebrate traditional mail, and the important role it plays in connecting all the people of the world… not to mention making sure all our postcards and letters get delivered in all corners of the planet! So we invite you to celebrate this happy day, thank your mail carrier for their work, and send a few extra postcards to friends, family or even strangers!
With your help, we've collected a list of celebratory events from postal operators and museums worldwide:
Since this year World Post Day falls on a Sunday, a lot of post offices and museums are celebrating a little earlier… so better check them now! And if you know of any more initiatives we can add to the list, just leave us a comment below.
Have fun, and enjoy World Post Day everyone! 📯