This week, we decided to highlight a lovely online exhibition we heard about from postcrosser OrangeSunshine. In 1926, the Dutch Postal Museum in the Hague received a fascinating donation: a trunk of around 2,600 letters from the seventeenth century, some of them still unopened to this day… This obviously got our attention, so we had to take a look!
The Brienne trunk, Sound and Vision, The Hague (
CC BY-NC 4.0
)
It seems that the trunk was originally owned by the postmaster and postmistress of the Hague at the time, Simon de Brienne and his wife, Marie Germain. Inside of it were all the letters that the post office could not deliver, either because of indecipherable or non-specific addresses, deceased recipients or people that moved… or because the recipient did not want to pay to receive the letter, as was the rule at the time. The chest was called the "piggybank" (spaarpotje), because they hoped to collect the money eventually if the letters were delivered one day!
The archive has recently been rediscovered and pored over by experts of all kinds, who have been hard at work preserving and digitising the collection, and you can see some of the fruits of their labor in the virtual exhibition!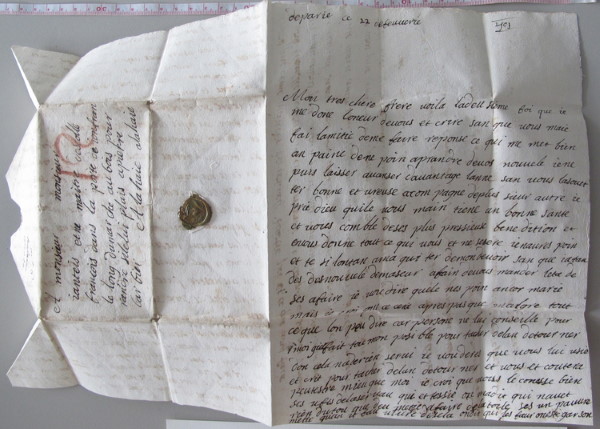 Opened Letter, DB-2146, Sound and Vision, The Hague (
CC BY-NC 4.0
)
One of my favourite aspects was learning about letterlocking (discussed more in room 4 of the exhibition). These intricately folded letters were intended to preserve the privacy of the letter-writers against the so-called "Black Chambers". These where secret workers within the post office who would open, copy and reseal letters in order to spy upon the contents for the government! Other people used codes to write their private letters, making their contents unintelligible if you didn't know the trick to deciphering them. You'd have to be careful to make sure that the coded nature of the letter wasn't too obvious, or that would only draw suspicion…
We definitely recommend you take a look at the whole exhibition if you're interested in this little piece of history. There's tons of information there about who wrote letters and what they wrote about, and the materials and writing implements they used to do it, providing a fascinating glimpse into another era. If you check out the exhibition, we'd love to hear about what you think! What's the most interesting thing in the collection from your point of view?