Never thought about visiting the island nation of Vanuatu? Then here's a good reason for you to consider: they have the first (and only?) underwater post office in the world! We bet you never thought it was possible to post mail underwater, have you?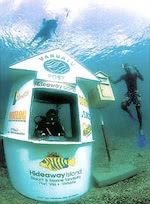 The Vanuatu Post came up with this idea to increase awareness of the richness and diversity of Vanuatu's underwater world. And if you never had the chance of finding nemo in real life, then that's yet another reason to think about Vanuatu for holidays, where you can do snorkeling and see the great aquatic life there is there.
But, don't think it's easy to get there! This special post office is 50 meters offshore and is 3 meters deep underwater – you'll need to scuba dive to actually get there. And make sure to check their schedule, as their are "open" only one hour per day! :)
Since its start in 2003, they have received over 100.000 visitors so it surely seems to be working well. Waterproof postcards are available and they use a special embossed cancellation stamp that can be used underwater. Postcards can be sent anywhere in the world, so it's perfect!