What is Postcrossing?
It's a project that allows you to send postcards and receive postcards back from random people around the world. That's real postcards, not electronic! Learn more.
How does it work?
Request an address and a Postcard ID
Mail a postcard to that address
Receive a postcard from another postcrosser!
Register the Postcard ID you have received
Go to number 1 to receive more postcards!
Our happy members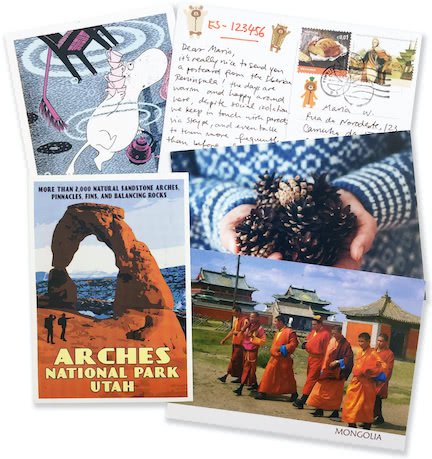 "Postcrossing really does make one feel that you are part of a global community. It is such a simple, yet effective way to connect with people and countries you otherwise never would have. It's great to receive an interesting card on which someone has shared a little bit about themselves & their lives - I love it!"
Liesel, South Africa
More love
What is happening now?
Postcrossing in numbers
803,623 members

206 countries

67,007,668 postcards received

414 received in the last hour

341,909 postcards traveling

209,648,893,830 miles traveled

8,419,144 laps around the world
Recent Postcards