What is Postcrossing?
It's a project that allows you to send postcards and receive postcards back from random people around the world. That's real postcards, not electronic! Learn more.
How does it work?
Request an address and a Postcard ID
Mail a postcard to that address
Receive a postcard from another postcrosser!
Register the Postcard ID you have received
Go to number 1 to receive more postcards!
Our happy members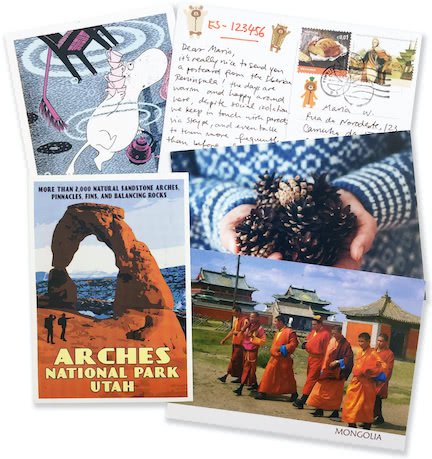 "There is nothing like a postcard in your letterbox to let you know you're not alone, and bring a smile to your face. It's great to overcome barriers of race and religion and just reach out to each other in the spirit of Friendship. All the world should do postcrossing, we'd be a much calmer, friendlier place."
Jo, Australia
More love
What is happening now?
Postcrossing in numbers
802,592 members

207 countries

67,475,554 postcards received

462 received in the last hour

336,598 postcards traveling

211,155,550,981 miles traveled

8,479,649 laps around the world
Recent Postcards