What is Postcrossing?
It's a project that allows you to send postcards and receive postcards back from random people around the world. That's real postcards, not electronic! Learn more.
How does it work?
Request an address and a Postcard ID
Mail a postcard to that address
Receive a postcard from another postcrosser!
Register the Postcard ID you have received
Go to number 1 to receive more postcards!
Our happy members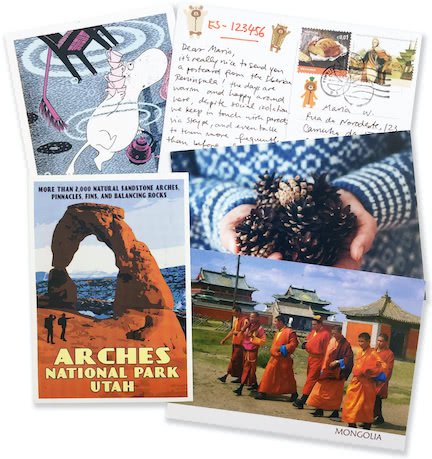 "I love Postcrossing simply because it connects. I love the fact that through it, you can meet people all around the world, you can learn about their culture, and you can introduce them yours. Aside from the truth that writing, sending and receiving postcards, is relaxing and fun, Postcrossing also lets out the creative side of every person. May it be a professional collector, or a student like me, Postcrossing helps in developing personalities and friendship."
Emil, 17, Philippines
More love
What is happening now?
Postcrossing in numbers
804,285 members

211 countries

72,178,841 postcards received

415 received in the last hour

371,114 postcards traveling

226,388,754,860 miles traveled

9,091,388 laps around the world
Recent Postcards