What is Postcrossing?
It's a project that allows you to send postcards and receive postcards back from random people around the world. That's real postcards, not electronic! Learn more.
How does it work?
Request an address and a Postcard ID
Mail a postcard to that address
Receive a postcard from another postcrosser!
Register the Postcard ID you have received
Go to number 1 to receive more postcards!
Our happy members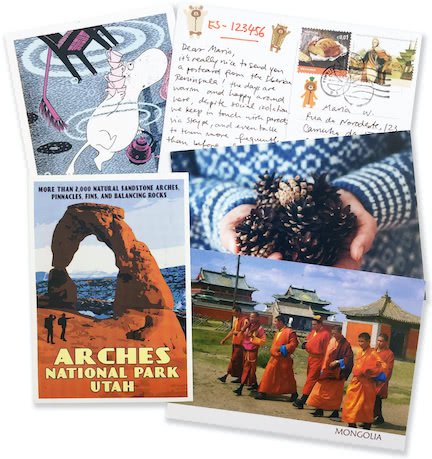 "I have always loved postcards and when I accidentally came across it, I immediately joined in. Wish I had known about this before. I even got my old aunty of 79 joining up, even though her English is very basic. And it's so nice that some of my postcards have been favourited."
Nelly, Netherlands
More love
What is happening now?
Postcrossing in numbers
802,716 members

208 countries

68,050,517 postcards received

158 received in the last hour

340,154 postcards traveling

213,055,250,015 miles traveled

8,555,937 laps around the world
Recent Postcards