What is Postcrossing?
It's a project that allows you to send postcards and receive postcards back from random people around the world. That's real postcards, not electronic! Learn more.
How does it work?
Request an address and a Postcard ID
Mail a postcard to that address
Receive a postcard from another postcrosser!
Register the Postcard ID you have received
Go to number 1 to receive more postcards!
Our happy members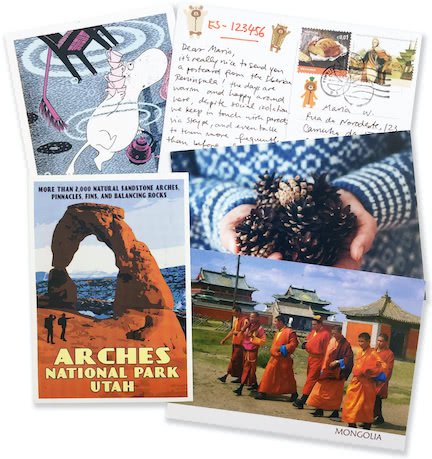 "Postcrossing is like a breath of fresh air in the world filled with Facebook, Instagram, Twitter, Snapchat, WhatsApp and others.
The joy of sending and receiving postcards cannot be described but has to be experienced. I have made a good acquaintance recently with a fellow Postcrosser staying 8000 miles away from me! Where else do you get such opportunity?
Postcrossing for me: Fun as well as informative!"
Satish Anikhindi - Belagavi, Karnataka, India
More love
What is happening now?
Postcrossing in numbers
803,352 members

208 countries

71,225,444 postcards received

247 received in the last hour

376,691 postcards traveling

223,149,050,860 miles traveled

8,961,287 laps around the world
Recent Postcards