What is Postcrossing?
It's a project that allows you to send postcards and receive postcards back from random people around the world. That's real postcards, not electronic! Learn more.
How does it work?
Request an address and a Postcard ID
Mail a postcard to that address
Receive a postcard from another postcrosser!
Register the Postcard ID you have received
Go to number 1 to receive more postcards!
Our happy members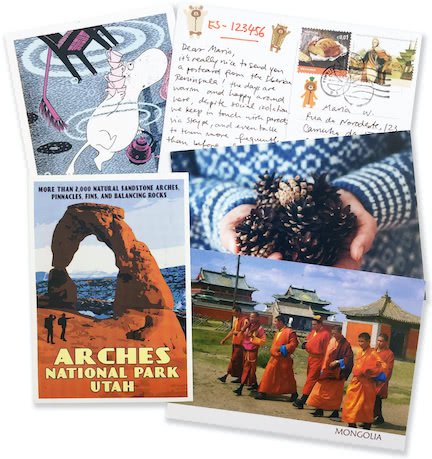 "Every time I get a card it makes me happy and smiling. Because it is exciting to learn something about someone else. Because it has made me see that people really are the same everywhere on the globe. And because Postcrossing is about sending peaceful messages - it earns the Nobel Peace Prize"
Virpi, Finland
More love
What is happening now?
Postcrossing in numbers
804,927 members

209 countries

63,486,250 postcards received

1,038 received in the last hour

373,901 postcards traveling

198,925,210,125 miles traveled

7,988,499 laps around the world
Recent Postcards